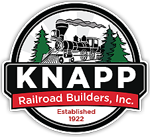 Knapp Railroad Builders is recognized as one of the Midwest's premier railroad construction and maintenance companies. We have been delivering quality service with personal integrity since 1922.
Our rail and track services include new track construction, track maintenance, inspection and rehabilitation, track derailment repair, supplies and remanufacturing. We provide services for industry, Short Line railroad, and some assistance to Class 1 Railroads as needed.
Knapp Railroad Builders' commitment to safety is proven by a performance record that is one of the best in the industry. This has been accomplished by making safety not only a program, but a core value. Safety is incorporated into every facet of our company. Much time and effort goes toward ensuring that our employees have a safe working environment; proper MSHA, OSHA, Railroad, and DOT training; along with the best equipment for their protection and yours.
It is not just another job, it is you, your product, and your relationship that makes every job important, no matter the size.

Rich Hawkins, President of Knapp Railroad Builders

Please
contact us today
to obtain more information and to talk to us about your specific project needs.
---

 Industrial Rail and Track Construction
Knapp Railroad Builders can tackle jobs of any size for your industrial rail and new track construction needs.

Narrow Gauge and Miniature Railroads
The Milwaukee County Zoo track was completed by Knapp Railroad Builders. All the work was done by hand; as is true for all work done on Narrow Gauge and Miniature Railroad Projects.

Railroad Grading and Erosion Control
Grade and erosion control is a service Knapp Railroad Builders offers that covers a broad range of projects and requirements.

Track Inspection
Knapp's track inspection team has more than 90 years of experience on everything from industrial track to narrow gauge track.

Snow Removal

Knapp provides a full range of snow removal services for the railroad industry.

Panelized Track and Turnouts
Knapp can furnish fully panelized turnouts shipped to your job site for quick and easy installation.

TAYLOR FRAC
Knapp started working with Taylor Frac in 2011. They came to us wanting to ship large qualities of sand out quickly to meet the industry needs.
During that time, Knapp Railroad Builders installed several thousands of feet of track along with numerous turnouts.
The quality job was completed quickly and efficiently, and Taylor Frac is still thriving today.

SUPERIOR SILICA
Knapp started working with Superior Silica in Barron in 2012. During that time, Knapp Railroad Builders had performed many new construction projects for thousands of feet of track.
Knapp Railroad Builders was presented with the Silica project in mid 2012, and the requirements included a very tight deadline to accomplish everything. Knapp was not only able to get the work completed for the thousands of feet of track on time, but was able to meet the high standards that Silica has for all of their rail project requirements. Knapp enlisted several members of their team to work concurrently on all aspects of the project in order to get it finished before the first carload of sand was ready for shipment.
Knapp understood the importance of getting this completed on time due to the high demand of the Frac sand industry. Superior is one of many customers that Knapp RR has obtained because of their stellar service record, quality, and on-time completion.
We not only got it finished on time, but the quality is what set us apart on this job.
Others will say they can do it. We can show it time after time. Not only do we do it efficiently, but we stand behind our work 100%.
Here are some basic stats for the job that we did at Superior Silica Sands:
Over 20,000 feet of track
Multiple Switches
Track work in a concrete loading area
Earth burms
ballast, raise, and tamping track

If you would like more information about our services or would like to get planning on your next rail project, please feel free to fill out the form below to get started. Or just give us a call at (414) 672-4270.
KNAPP RAILROAD BUILDERS
4777 W. LINCOLN AVE.

Milwaukee, WI 53219

(414) 672-4270